In early January 2014 Concept together with Stechert, our German partner, started production of more than 40 000 seats for the «Otrkitie Arena» stadium that is currently under construction. The stadium will host the home matches of FC Spartak Moscow.
Vendor competition began in August 2011 when all the tenderers were invited to install their stadium seats on a test platform. During the whole year the seats were tested for their anti-vandal qualities, frost resistance and color durability. The results of the severe tests proved the two seats offered by Concept — Kango Smart and Copacabana Business — to be the strongest and most skillfully designed.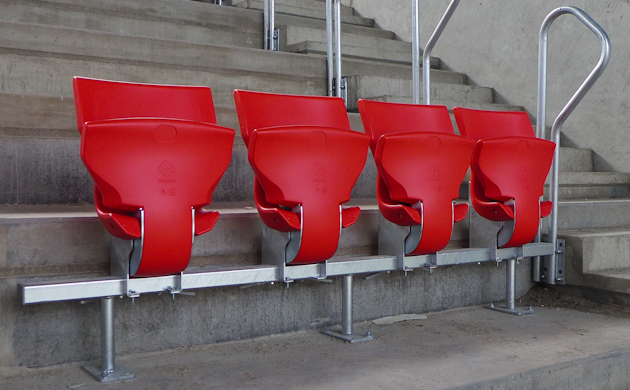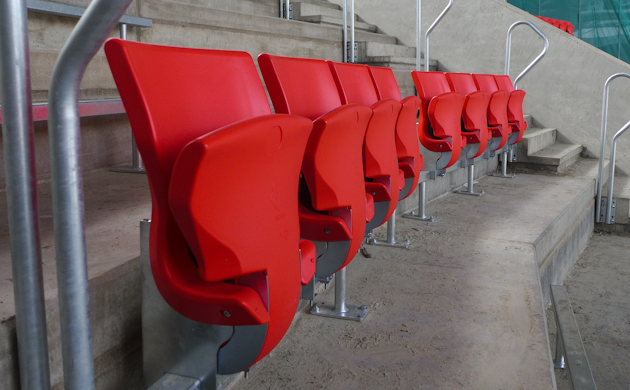 Copacabana Business is the first stadium seat in the world that received the Reddot design award in 2011. 4320 red seats with soft cushions featuring excellent ergonomic design will be installed in business and VIP areas.
Kango Smart is often called Copacabana's «little brother» since the two seats are almost of the same width. The only difference is Kango Smart's «waistline» at the back of the seat. In terms of ergonomics this seat is identical to its «older brother», but is cheaper, which makes the seat very attractive. This seat was first featured on Weser-Ems-Halle arena (Oldenburg, Germany) in 2013 where it was well received. A total of 39 962 Kango Smart seats in traditional red and white colours will be installed in «Otkritie Arena».
The seats are installed on a railing which allows to adjust the distance between the seats. The amount of seats can be changed without any extra effort if necessary.
Sign up to view an object
Business center «Danilovskaya Manufactory» Varshavskoe highway, 9 building 1 «Sittsevy», 1st floor, 2nd entrance, Russia, Moscow
+7 (495) 797-90-10