Special offer
For the first time in Russia Concept is proud to present Knoll Antenna Collection. First customers will benefit from exclusive discounts and free furniture assemblage. All the furniture is in stock at our warehouse in Moscow.
Knoll Antenna offers tables, partitioning elements and storage systems. Table design allows you to create individual workplaces without cluttering the space with unnecessary elements: simply attach a screen or a suspended accessory drawer. Special railings make it easy to link desks defining efficient shared work areas.
Available from stock in Moscow are fully equipped workplaces, executive offices as well as the perfectly matching Knoll Generation chairs, which are famous for their ergonomics.
To complement the collection we suggest Knoll Studio furnishings, created by the renowned designers of the XX century:
Ludwig Mies van der Rohe Brno Chair
Designed by Mies van der Rohe in 1930 for the UNESCO World Heritage Site of Tugendhat House in Brno, Czech Republic, this chair is considered classic of modern furniture.
Warren Platner Arm Chair и Coffee Table
An armchair and a coffee table from an elegant collection of an American architect and interior designer Warren Platner. «A classic is something you look at often and always accept as it is," explained Platner. «You can see no way of improving it."
Joseph Paul D'Urso Swivel Chair
The D'Urso Swivel Chair strikes a playful balance between formality and whimsy.
Eero Saarinen Oval Side Table
A coffee table by Finnish-American architect and furniture designer Eero Saarinen, who vowed to address the ugly, confusing, unrestful world he observed underneath chairs and tables — the so-called «slum of legs." A five-year design investigation led him to the revolutionary Pedestal Collection.
Eero Saarinen Medium Womb Chair
Eero Saarinen designed the groundbreaking Womb Chair at Florence Knoll's request for a chair that was «like a basket full of pillows — something I could really curl up in». The fiberglass design supported multiple sitting postures and provided a comforting sense of security — hence the name.
Charles Pollock Executive Chair
A famous leather swivel chair with an aluminium band around the chair's perimeter by Charles Pollock, one of the best-selling chairs in history, which became a visual symbol of the modern workplace and was exhibited at the Metropolitan Museum in New York and the Louvre in Paris.
Florence Knoll Oval Table Desk
A perfectly proportioned and flawlessly detailed desk by Florence Knoll, American architect and designer, head of Knoll company.
To order please call us at (495) 797−90−10 or email us at info@theconcept.ru.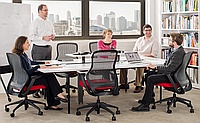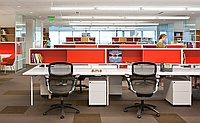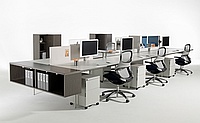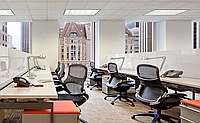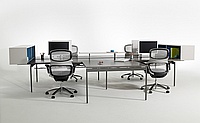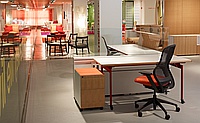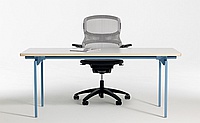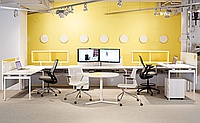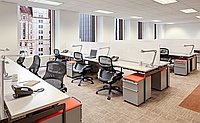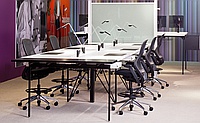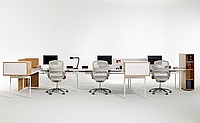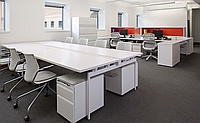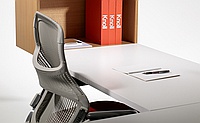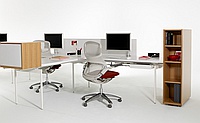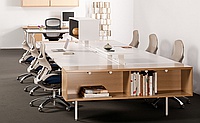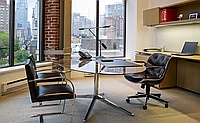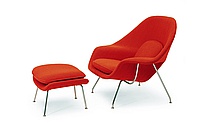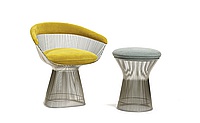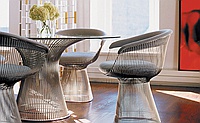 +7 (495) 797-90-10
Avrora Business Park 82 bldg 2 Sadovnicheskaya str. 5-th entrance Moscow, Russia