XII Architectural Biennale in Venice
Concept continues to participate in supporting the initiatives on resurrection, development, and execution of cultural traditions and events, especially in the field of design and architecture. At this time, sponsor contribution provided by Concept has aided to present Russia at one of the most prestigious international exhibitions — XII International Architectural Exhibition, which has been held in Venice since 1980.
One of the cornerstone principles which Concept implies to every single project is that our design has to be innovative, individual, and it has to meet the contemporary requirements, but at the same time it has to be based on the traditional high quality and professionalism, so for our company it has been honor and pleasure to take part in preparing Russian pavilion for the exhibition. Joint efforts of sponsors, young and acknowledged architectural professionals, and support of the Deputy of the Minister of Culture of RF allowed the restoration of the Russian pavilion, and the project «Fabrika «Rossia»» presentation. Architectural reviewer Grigory Revzin, architect Sergey Choban, and the Deputy of the Minister of Culture of RF Pavel Khoroshilov acted as the exhibition's curators. The project presents ideas on the transformation of the old, outdated existing industrial objects into active parts of the contemporary urban environment. Russian city Vyshniy Volochek, where such plants and factories as Prohorovskie Manufaktury, Manufaktury Ryabushinskih, and the plant «Krasny Mai» are situated, became the «testing ground» for the Russian architects.
Series of workshops, discussions, presentations where architects and reviewers will participate have been scheduled. These events have been named «Architectural Saturdays» and «University Gatherings in the Architecture,» which are supposed to attract higher education institutions specializing in programs for future architects, engineers, and designers.
This Venetian Biennale has the theme appointed by the curator Katzuo Sedzima: «People Meet in the Architecture.» As she herself explains the theme of Biennale «the idea is to aid people relate to the architecture, to aid architecture relate to people, and people to relate to each other. The Exhibition is the experience of testing the abilities of architecture, to realize and express new life style, values of XXI century.»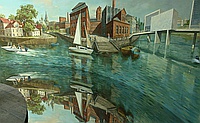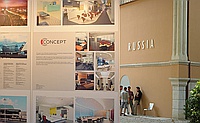 +7 (495) 797-90-10
Avrora Business Park 82 bldg 2 Sadovnicheskaya str. 5-th entrance Moscow, Russia