Vote for the Audience Prize at Best Office Awards 2016
We invite you to take part in the voting for the Audience Prize at Best Office Awards 2016!
You can vote for your favorite project by selecting the corresponding photo in the album and liking it on the Facebook page. The project receiving the largest number of votes will become the winner of the category and will be awarded at the Best Office Awards 2016 ceremony.
The awarding ceremony will be held on May 26, 2016 in Danilovka Event Hall at the end of the conference and the Business & Design Dialogue exhibition. We would like to remind you that the Best Office Awards International Award has been held since 2010 and remains the main Russian professional award in the field of corporate interior design. Each year prizes are awarded to the prestigious Russian and foreign office projects. Annually, the Best Office Awards Prize is attended by more than 100 projects. You can learn more about the award as well as get acquainted with the list of nominations and participating companies at the Office Next website.
Concept will be a partner of the exhibition part of Business & Design Dialogue 2016, the international forum of design, technology, offices and public spaces. Visitors will be able to test the Concept products in the Lucky room 5.0 concept by Sergey Estrin Architectural Studio presented in the special exhibition project TREND ROOMS.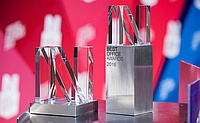 +7 (495) 797-90-10
Avrora Business Park 82 bldg 2 Sadovnicheskaya str. 5-th entrance Moscow, Russia