BEST OFFICE AWARDS 2011
On May 18th-19th, 2011 at Capital City Complex «Moscow-City» the BEST OFFICE AWARDS 2011 took place. The company Concept, as a strategic partner for the event, took part in the arrangements by supporting the award ceremony BEST OFFICE AWARDS 2011 and the charity auction held afterwards.
You can get acquainted with details about the events of BEST OFFICE AWARDS 2011 on the website www.officenext.ru. As part of the framework of the events of BEST OFFICE AWARDS 2011 the exhibition OFFICE TREND SHOW took place. On the exhibition Concept displayed furniture innovations and design icons by companies leading in the world of the office furniture: by Knoll the classic Saarinen Child's Womb Chair, by Dauphin the futuristic armchair Züco Perillo, by Vitra, the Jasper Morrison designed Hal collection and by Connection Seating of the UK, Hive, a new modular and technology integrated 'third space' seating solution. Hive was a real «star» of the Concept stand with its integrated plasma screen and comfortable design.
During the Awards Party on May 19th an auction was held to support the charitable fund «The Road Together» to help the two organizations: the «The educational support service for minors» and the «Center of therapeutic pedagogy» which support people with disabilities and children at risk.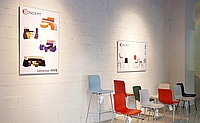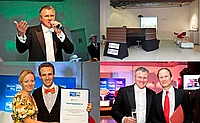 +7 (495) 797-90-10
Avrora Business Park 82 bldg 2 Sadovnicheskaya str. 5-th entrance Moscow, Russia