«Podmoskovnyye Vechera». Winter concert.
On December 12 on 7:30 pm the winter concert of the project «Podmoskovnyye Vechera» will take place in the Center of Contemporary Art «Garazh» (www.moscowopenair.com).
In the agenda of the concert — Austrian duet «Igudesman & Joo» (www.igudesmanandjoo.com), in the lineup of a violinist Aleksey Igudesman and a pianist Richard Joo, with the musical comic show «A little Nightmare Music». This show was created in 2004 and entirely consists of small acts. During these acts musicians transform classical melodies to «music nightmares», and academic performances — to the comic show.
The Concept is proud to be in the team of companies who are arranging and sponsoring this wonderful cultural event.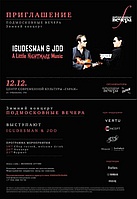 +7 (495) 797-90-10
Avrora Business Park 82 bldg 2 Sadovnicheskaya str. 5-th entrance Moscow, Russia