Lucky room 5.0 new office space concept
A grand event in the world of design, technologies and management of office and public spaces, Business & Design Dialogue 2016, took place on May 26, 2016 at Danilovskiy Event Hall. As part of this major event, there was held an exhibition of original spaces and concepts from leading architectural firms called Trend Rooms.
One of the concepts presented in this special exhibition project was Lucky room 5.0 created by Sergey Estrin Architectural Studio. The idea presented by the author as office space that «makes you lucky» was implemented with the support of Concept.
The stand office of Lucky room 5.0 was visually divided into two parts. On the left, you could find a sitting area where a classic collection of lounge furniture made by the Knoll Italian factory was presented complete with a unique chair Plateau. This chair was created by Danish designer Eric Magnussenom, who fused table and chair into a world of its own: the armrest of the chair provides room for your laptop or coffee cup. This piece of furniture perfectly reflects the current trends where leisure and work converge together. The right part of the exhibition was more dynamic and mobile. Here you could find a coffee table by Knoll from the US and visitor chairs with the structural design by the Italian manufacturer Kubikoff.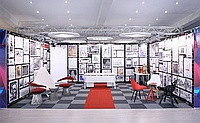 +7 (495) 797-90-10
Avrora Business Park 82 bldg 2 Sadovnicheskaya str. 5-th entrance Moscow, Russia