Office Next Moscow 2013
Concept participates in IV. International Forum for Office Design, Technology and Real Estate, which will be held May 14−16, 2013 at Design Centre ARTPLAY in Moscow.
As a regular participant Concept will traditionally present the production of the world's leading manufacturers of office furniture. Moreover, our company is a strategic partner of Best Office Awards, the first national award for the best interior desing of offices, business centres and other public places, and we are proud to be sponsoring the «Brand and Image» award.
You are welcome to visit our display at OfficeNext Moscow 2013 Forum.
International Forum for Office Design, Technology and Real Estate is the only platform solely devoted to the office industry in Russia. It is based on three pillars:
the exhibition for high-class office furniture and technology TRENDS;
the conference for industry experts and new ideas TALKS;
the awards for innovative Russian and international office projects Best Office AWARDS.
The event will give you the ultimate insight into the Russian office industry, with both international and Russian top brands, speakers and office projects. It is the event where industry experts meet to get fuller information on the newest developments in the market, to establish new contacts and to stay in touch with partners and potential clients.
To learn more about Office Next Moscow 2013 please visit the forum's website.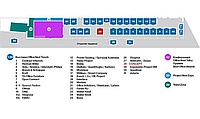 +7 (495) 797-90-10
Avrora Business Park 82 bldg 2 Sadovnicheskaya str. 5-th entrance Moscow, Russia