Components of success
Within a few months of the current year Concept successfully implemented the number of unique projects with complex office equipping of such major companies as Phillip Morris (BC «Legenda Tsvetnogo») — 6000 sq.m.; Tinkoff Credit Systems (BC «Olympia Park») — 3000 sq.m.; Otto Group Russia on Vyatkaya street — 4500 sq.m.; NEO Centre (BC «Chaika Plaza VII») — 2500 sq.m.; Knight Frank (BC «Light House») — 1500 sq.m.
Concept also signed contracts for the supply of furniture with such companies as Goodyear, McDonald's, Lexmark, A-Energy systems and Kaspersky.
We are proud of our reputation to be a reliable supplier of furniture and services of creation of office interiors and we focus on establishing long-term relationships with each client.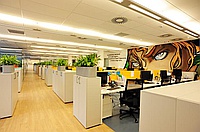 +7 (495) 797-90-10
Avrora Business Park 82 bldg 2 Sadovnicheskaya str. 5-th entrance Moscow, Russia